$30 per person 
for Gold Coast & Brisbane Locals.
Now till 18

th

 September 2020.
Special for
Gold Coast Locals
Aquaduck has been operating on the Gold Coast for the last 24 years and throughout those years there have always been ups and downs. Now, 2020 definitely takes top spot!
When we look back over those years there is a common theme and that is Aquaduck has always had support of the Gold Coast & Brisbane Locals. Whether it is bringing family from overseas, kids birthday parties or Grandma's 70th Birthday celebration we have had more than 600,000 locals join us on the Aquaduck for a tour. That is a massive amount of support whatever business you are in. We want to say THANK YOU for that support, we really appreciate it!
Over the last two years we have improved our tour, commentary and the way we operate with the aim of providing a greater experience for families, couples, groups of friends and extended families. We all know 2020 has been a tough year so we would like to invite you to take an Aquaduck tour, to reconnect with the Gold Coast and take advantage of this awesome LOCALS offer! 
Get your family, friends or work mates together and join a tour. Reconnect with them, see the beautiful sights of the Gold Coast, share an experience and help a locally owned family business. To help you do that we have an extra special $30per person discount. This has never ever been done before and if you know Aquaduck discounts are not something we do.  
So here it is!
Use the PROMO CODE: LOCALS when you book on your website of call us on 55390222 to make a booking.
All you will need is your licence address showing a postcode between:
4000 – 4350, 4499 – 4601.
This offer is valid till 18th September 2020.
Thanks again for your support and we look forward to seeing you on the Aquaduck soon.
$30 Per Person - Locals discount
All you will need is your licence address showing a postcode between 4000 – 4350, 4499 – 4601
Enter this code at checkout "LOCALS"

  1hr City Tour & River Cruise
1hr amphibious city tour and river cruise
Informative city tour, Broadwater, Canal & River Cruise
See the Gold Coast's iconic sights from Surfers Paradise to Main Beach
Children can Captain the Aquaduck and receive a free certificate.  Suitable for all ages.
Departs Daily 10.00 am – 4.15 pm all year (5.30 pm September – April)
Group rates available for 12+ guests
Private tours available – Up to 90 guests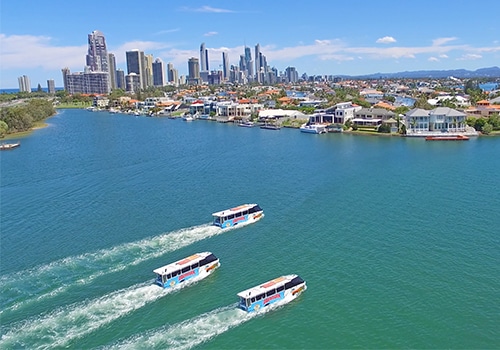 Other locals discounts available
*Not available with any other offer
36 Cavill Ave, Surfers Paradise QLD, 4217